Happy esports met rllmuk MNRC
Every Monday night a group of us from the UK and Netherlands enjoy online racing in the PlayStation racing game Gran Turismo Sport - the rllmukforum.com Monday Night Race Club. Our group is made up of motorsports enthusiasts and experts, including F1 Editor Jonathan Noble (Motorsport.com), Presenter/Actor Bjorn Remmerswaal, Motorsports & Video Game Specialist Joe van Burik (BNR Nieuwsradio), Photographer Pim Geerts and Motorsports Expert Louis Dekker. Video highlights of our races can be watched here. We are always talking about our set ups - the latest wheel and pedals - as well as motorsports or general life, and we are all thankful for the fun and friendship we get through gaming.
Support the first Dutch esportsteam for kids with a disability
The Bio Vakantieoord charity in the Netherlands allows children with disabilities to enjoy some time away together with their parents, brothers and sisters, and has been doing so since 1927. Last November, they launched an esports team for these kids together with a number of ambassadors. They are going to set up a game room equipped with adaptive Logitech and Microsoft gaming controllers in order to enable these children to enjoy gaming. All kids with a disability can sign up here to participate.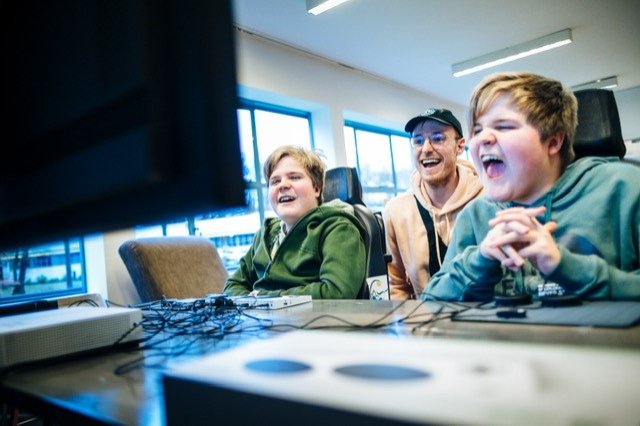 Donate, design and race!
Starting 13 December 2021 is the rllmuk MNRC XMas livery charity competition. Every racer is invited to create a Christmas-style livery for one of two cars in Gran Turismo Sport: the VW Beetle Gr. 3 or the Porsche 911 Gr. 3. We'll race these cars on Monday 20 December 2021 at 8PM UK time (9PM Dutch time) in a number of online races in Gran Turismo Sport. By doing so, we support the Bio Vakantieoord esportsteam to obtain their adaptive gear. All participants, as well as their friends & family, are invited to make a donation of your choice as an 'entry free' or general support to this charity. To make a donation from the UK, please select 'the payment option 'direct debit, the withdrawal will take place at the 27th of December.'
If you want to race with us, please add Joe_McSpeed to your friends list on PlayStation Netwerk and send him a message!